Keep On Rolling...
Tales, data and photos from the bike.
Thanks for stopping by. Enjoy my site.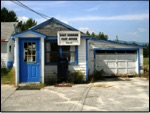 Bike Post Office Photos...
Click on the photo to the left to check out the post offices I have biked to in the last 15 years. Arranged in alphabetical order, but this year's are at the start (5).
Current count is 456 post offices.
Maine = 397; Massachusets = 2; New Hampshire = 31; New York = 6; Vermont = 20
Current bike notes...
1/10/21
Bike target towns for 2021 are Lisbon, Haynesville and Vanceboro.
I hope to be able to cross into Canada at Vanceboro and go after a photo of a Canadian postal location which is under 10 miles from the border. Once border crossing can happen (after COVID and geting new driver's license or a pass card) the easy Canada Post location is on Campobello Island.
The target that has always been there is Estcourt Station. There is no post office there but it is the top of Maine. The only paved way to reach it is through Canada. When reached, if the Customs Station also serves as a postal outlet I would take a photo and count it. The closest U.S. post office to Estcourt Station is Saint Francis which is on the way to Allagash. There are no roads from Saint Francis to Estcourt Station (do not know about logging roads). From Fort Kent to Estcourt ghoing through canada is about 45 miles. While I doubt I will reach this in 2021, going into the year the odds are higher than in recent years.
Also plan to get a photo f the Lincoln post office thius year. Have biked through Lincoln before, but time constraints when I get there, more than once, did not allow me to wander the streets to find it. If not found on a long solo bike ride I tended not to chance a wrong turn and loss of time I did not have. I have mapped out the location. I was within a few blocks of it twice. There is another post office to the east of Lincoln I plan to go after. Did not make this a target town because I wanted two of the towns to go after a larger section of new bike road. This year's easy one is Lisbon. It is on a section of road that I did not divert onto during longer ride.
Vanceboro is located east of Route 1 from Topsfield. Hope on this ride is to also link Springfield to Topsfield. That take care of a hanging line on the wall map.
The reason for Haynesville, Maine is to start covering the large section of Route 2A. That section goes from Macwahoc to Houlton. Closest post office to Haynesville is in Wytopitlock, Maine. I did not make this a target town because I wanted to cover Route 2A.
I did buy an exercise bike in late November. I used to consider this entering the death spiral, but after the 2020 miles total...
Hope is always higher at the start of the year.