Keep On Rolling...
Tales, data and photos from the bike.
Thanks for stopping by. Enjoy my site.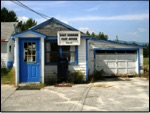 100 miles in a month streak ended in June. Lasted 158 months from Aprill 2007 to May, 2020.
Bike Post Office Photos...
Click on the photo to the left to check out the post offices I have biked to in the last 15 years. Arranged in alphabetical order, but this year's are at the start (5).
Current count is 456 post offices.
Maine = 397; Massachusets = 2; New Hampshire = 31; New York = 6; Vermont = 20
Current bike notes...
10/12
Did a section of Rte 11 yesterday and also got the final target town for this year, Shapleigh. Crossed over and got Rochester, NH post office. Did not map ahead of time, but since staying on Rte 11 simply used cellphone to locate upcoming post offices. However did not realize until this morning there are possibly two additional post offices in Rochester, NH I could have gone after. That's for another time. Try to reduce the impact on a pace car rider. Currently wondering if I could bike to my 400th Maine post office this year...
Three bike target towns for 2020 in Maine are Shapleigh (reached 10/11), Bradford (reached 9/7) and Hersey (reached 9/5). Maine.

Map section before ride...